We attended the opening night of the
Reading Beerfest
, Thursday May 2nd. Despite having lived in Reading for almost a decade once upon a time, I'd never been to this legendary festival before, and wasn't expecting it to be so spectacular. Unlike most of the beer festivals we've attended recently, the Reading event was held in a large marquee in the King's Meadow field, with outdoor seating areas as well as the huge bars inside. On scale, as well as in range and supply of real ales, this festival rivals even the GBBF, and certainly stands head and shoulders over any of other the local festivals we've attended. The atmosphere was relaxed, lively, and friendly, never becoming unpleasantly crowded despite the huge number of people attending. There was a range of entertainment and food, including several outside food tents, again immeasurably superior to the canteen food or burger vans offered by smaller festivals. And the beer range was astounding: hundreds of LocAles made up over half the length of the main tent, with national beers continuing onto the overflow bar around the corner (along with country wines, ciders and perries, and international bottled beers).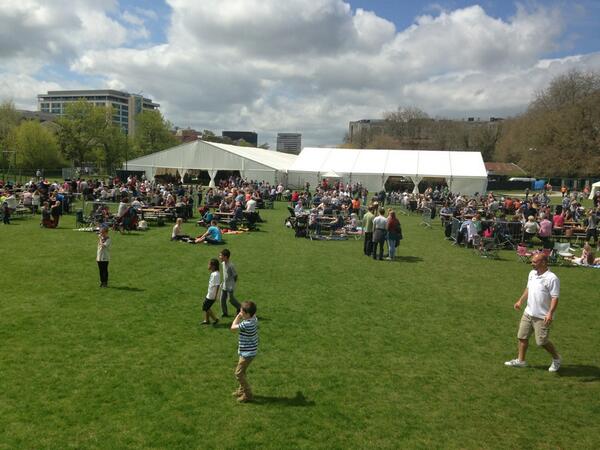 Everything from security, ticket prices (advance tickets included beer vouchers) and glass recycling (glass included in ticket price rather than a deposit to save on washing up costs) to the venue and organization was outstanding and innovative. I hope other beer and cider festivals are paying attention. (My only complaint was that being a cool spring night, it quickly became very cold in the tent after dark, so we ended up not staying terribly late. Nothing anyone could have done about that though: it was May, after all.)
I
tweeted
my notes on eleven of the beers (not all of which I drank an entire pint of, natch!), excluding only one really terrible, I think spoiled, glass, and the ale that I suspect was poured on top of the dregs of another that I'd asked to be poured away. I'll only repeat the highlights here.
My first of the night was a hit:
Siren Craft's Liquid Mistress
, despite the cheesy name and label, was a lovely pint—a very dark but clear red with bubbly head and a ripe citrus aroma. There are notes of tangy berry and tropical mango on the tongue, and a satisfying bitter swallow that makes this one interesting enough to come back to.
Tiny Rebel's Cwtch
was also very nice, a cloudy dark amber with a huge head of foam, a subtle but complex hop aroma, tasting both tart and sweet on the tip of the tongue, with honey and fruit pith further back; a nice coarse finish left this complex pint a real contender. If I see this again in a pub I'll jump at a pint or two. One of the last beers I had in the evening was a
Chiltern Nut Brown Mild
: a dark red, smoky ale, with a hint of berry in the first taste; slightly hoppy on the swill, but not too bitter at all, with a robust but ephemeral swallow. Apart from the short-lived bitterness, this LocAle had everything going for it.
Maria's favorite beer of the evening was the
Rebellion, Sparko
: a dark, clear red ale whose aroma was both smoky and buttery (a bit like fresh pastry to me), slightly nutty on the first taste, then satisfyingly wheaty as it goes down, but with very little aftertaste. I may have been less enthusiastic about it than she was, but it was still a highly recommended pint. For my money, the beer of the festival would have gone to a LocAle:
Loddon's Forbury Lion
, a misty gold beer, with a subtle summery smell of dry leaves, some tart hoppiness from the very start, and an acerbic pithy swill all the way back. Very interesting things going on with the bitter green leaf swallow, which left a lingering taste in the mouth and I would have been very tempted to go back for more. Not by any means the only good strong IPA around this evening, but the most memorable as far as I was concerned.
Also rans:
Ascot's Anastasia's Exile Stout and the Traditional Scottish Brewery's Glencoe Wild Oat Stout were both fairly samey stouts: distinct in their own ways, of course, but neither outstanding enough to stick in the memory; I think Anastasia was a bit tarry, and Glencoe a bit watery. Oakham's Citra was a clear, almost colorless gold, with musty lemon peel aroma, but bland tasting with hit of candied peel, sadly rather watery, almost but not quite rescued by a gentle lingering bitterness. Privateer's Dark Revenge looked nice and black, and smelled promisingly coarse like gunsmoke, but was insipidly sweet and a bit cloying on the finish. Two Cocks Brewery's Puritan was very dark with a brown, frothy head, a nutty/woody first taste, peaty further back, but a bit watery throughout; disappointing as it got everything else right, down to the smoky and sappy blend on the swallow.
The Locale from German-themed Reading brewery Zero Degrees, Frankonia Smokey was the one I didn't finish: so smoky it was like drinking a pork and apple sausage, any hint of citrus in the swallow just drowned by the smoke. Undrinkable.